Company Profile
Our Group attentively addresses the diverse lifestyle needs of our customers.
From wholesales of piping hardware and home installations/equipment—our core business—to trading and environmental relations, the Koizumi Group operates a wide range of businesses.
Furthermore, we envision establishing a corporate structure with multiple local subsidiaries overseas and further pursuing global business development.
To continue to attentively address the diverse lifestyle needs of our customers, we will actively develop our businesses across different fields.
Main Businesses
Other Housing Relations
Global
Insurance
Environmental
Trading
Specialty Store
Radio Tower
| | |
| --- | --- |
| Name | KOIZUMI Co., Ltd. |
| Business Content | House equipment trading and related business |
| C.E.O | GO NAGASAKA |
| Headquarters | 32-5, OGIKUBO 4 CHOME, SUGINAMI-KU, TOKYO 167-8555 JAPAN |
| Telephone | +81-(0)3-3393-2511 |
| Founded | April 18,1947 |
| Paid-in Capital | 3,478,280,000Yen(Including related companies) |
| Annual Sales | 162,900,000,000Yen |
| The Number of Employees | About 2,580 |
Corporate Brochure
(English)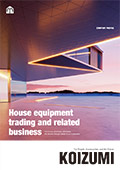 Mission Statement
Our Vision
For People, Communities and the Future
As a comprehensive trading firm of home installations and equipment, the Koizumi Group leverages its strong community-based networks to assist you in creating comfortable and environmentally friendly homes.
Assisting Customers with the Group's Collective Capacity

Our Group is centered around Koizumi Co., Ltd., a comprehensive trading house of home installations and equipment with a history and proven track record spanning over more than 70 years. We can meet the diverse needs of our customers with the advanced expertise of each member company and the collective capacity of the Group as a whole.

Creating Solid Partnerships

The bonds between our customers and us are most highly valued at the Koizumi Group. We aim to further strengthen them through Izumikai activities that promote networking, information exchange and mutual facilitation with our customers, annual summer sales with a history of over 50 years, product exhibitions and many other local events.

Community-based Services and Support

With a strong network mainly based in Tokyo and its neighboring prefectures, the Koizumi Group consistently takes on community-based approaches to contribute to success in our customers' efforts to receive orders. We are always by our customers' side, making sure that we can provide helpful services and support: from providing product information, offering complete product lineups and speedy delivery to proposing sales promotion measures.

Pioneering in Business Models for a New Era

With environmental issues like global warming gaining significant attention, environmentally friendly house building is now a more important topic than ever. In response to this, together with our customers, the Koizumi Group will pioneer in developing business models for a new era such as those to strengthen our efforts in sustainable energy-related products. Moreover, we will proactively develop new businesses in various areas, without remaining confined within existing business fields.
Our Credo
We will develop a Koizumi Group that devotedly serves with an altruistic spirit and is loved, meeting needs anytime, anywhere and for anything.
We will create a workplace that prioritizes harmony with a positive atmosphere, enabling our staff to work hard and play hard.
We are committed to the development of the Koizumi Group by looking back at our pioneering days and sticking to unyielding perseverance and persistent striving.
Our Management Philosophy
We will contribute to the improvement of homelife and welfare for society by providing logistics services.
Each of us will contribute to social development with awareness and pride.
We will respect humanity and create a rewarding and attractive workplace.
We will comply with various laws and regulations relevant to corporate activities and fulfil our social responsibilities.